The machinery division of Sessions, which was bought out of administration by York entrepreneur Adrian Barraclough, is celebrating export success.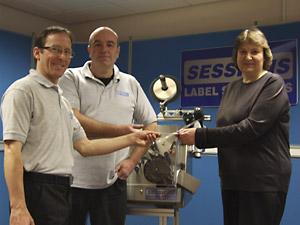 Simon Davy, director and Alan Parker, engineer, receive their flight tickets from Alison Gabbetis, office manager, of Sessions Label Solutions
After a challenging year, Sessions Label Solutions has regrouped and is now working on projects in the UK and overseas, Mr Barraclough said.
Simon Davy, director, and Alan Parker, an engineer for Sessions Label Solutions, jetted off to Pabrade in Lithuania to install a machine designed and built for pharmaceutical company Intersurgical.
The machine is a respiratory filter labelling system for multi type filters with associated heat shrinking system, and in the same week, Sessions Label Solutions secured a considerable order from Pakistan for the first of many machines.
Mr Barraclough, chairman of parent company Audasi, said he was proud of how the team had adapted to cater for the new markets. "Because of these efforts the Sessions name would continue to live long in York and remain a global byword for pioneering designs," he said.