Renaissance Window Systems are currently investing time and money into revamping their website to promote further the Renaissance brand within the window industry.
Renaissance were pioneers in developing windows in PVCu and today offer a complete suite of PVCu windows and doors ranging from traditional sash windows through to modern casement styles.
The contract was awarded to Barob Design, their young and vibrant approach to web design promises something dynamically unique that will propel Renaissance alongside other industry recognised brands.
Peter Roberts, creative director of Barob said "Were very excited to be working with Renaissance they are a progressive, dynamic forward thinking company who want to adopt leading technologies to promote and drive their brand and we feel we're best matched to deliver this on their behalf".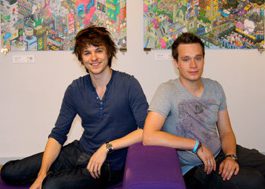 Website preview along with Barob directors Ben Barraclough and Pete Roberts.
The Renaissance relaunch is the first of many initiatives to promote the brand as well as providing third party resellers and manufacturers a powerful marketing tool to help selling windows to end users. It is expected to launch on 1st March 2012.