Vertical slider market leader Quickslide took the highly coveted Fabricator of the Year prize at this years' G11 Awards, beating some still competition to demonstrate to the judges that the company's intensive investment programme is delivering returns for the company and its customers.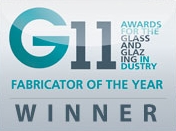 In choosing Quickslide the judges said "The winner stood out due to their commitment to product and factory process development, enabling them to offer an even increasing range of product variations and product designs".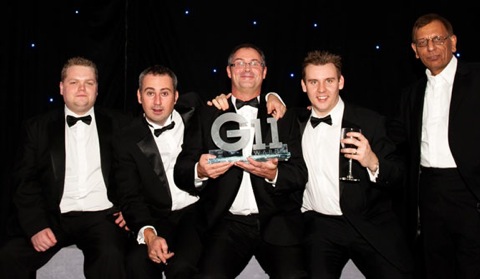 A proud Adrian Barraclough cherishes the Fabricator of the Year trophy accompanied by some of his management team at the recent G Awards held to highlight best practice in the UK glass and glazing industry.
An ecstatic Adrian Barraclough, Chairman of Quickslide, said that the trophy is a powerful adjunct to the hard work and commitment that has gone into the extension of the product range and the infrastructure to cope with it: "We set out to increase our product range and to improve our production and logistical infrastructure, a series of processes that has required an unbelievable commitment by everyone at Quickslide. For someone outside of Quickslide to come along and tell the industry – and us – that we've done things rather well is very satisfying indeed".
Quickslide continues its dominance of the vertical slider market and now offers a full range of complementary casement windows, composite and bi-fold doors. Several new trucks are enhancing delivery of their new products.